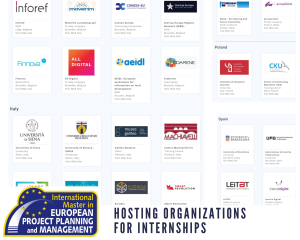 Guaranteed Internships for the Master Students
60 organizations offering work experience
The International Master in European Project Planning and Management offers all students a guaranteed international internship. Interns will be working as Assistant European Project Managers in 60 partner organisations located throughout Europe.
The partner organisations hosting the interns are all actively working in the field of European project planning and management and currently coordinating several European projects.
Internships can be organised either at the site of the host organisation or online.
More information at https://europlan.pixel-online.org/master/internships.php