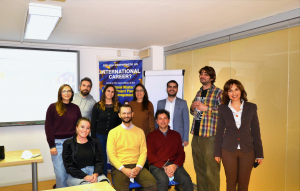 The Master Programme, Internships
Closing of the First Part of the Programme and Start of Internships
The classroom/online part of the 10th edition of the international Master in European Project Planning and Managements ended on 17 December 2021.
All students start their onsite and online internship in January 2022. Each of them is currently working as assistant European project manager at one of the partner organizations of the Master Programme.
The organizations hosting the students for the internship are all actively involved in planning and writing European project proposals and in European project management. The internship, therefore, gives the Master students the opportunity to put into practice the skills acquired during the classroom/online part of the programme, through the direct involvement in the planning and management of European projects.
Internships were organised, taking into account profiles, needs and expectations of both each participant and each host organisation to make the internship experience very beneficial for both.
The organisations hosting the Master students interns this year are: Technological University of the Shannon (in Ireland), AEIDL (in Belgium), Inercia Digital and Meraki (in Spain), The Opportunity Centre (in United Kingdom), Centro Machiavelli and Euradia (in Italy), BupNet (in Germany), United Societies of Balkans (in Greece), eMundus (in Lithuania), and Inova+ (in Portugal).
The duration of the internship is three months.
We wish all the students involved in the 10th edition of the Master Programme to have an excellent professional and personal experience during their internship.
Information about all Partner organizations offering internships to our students is available at http://europlan.pixel-online.org/MST_partners.php