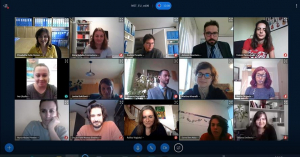 The Master Programme, Internships
Closing of the First Part of the Programme and Start of Internships
The online synchronous part of the 9th edition of the international Master in European Project Planning and Managements ends today, 18 December 2020.
An online get together event was organized to meet all students before the Christmas break to share Happy Holidays wishes.
All students start their online internship in January 2021. Each of them will be working as assistant European project manager at one of the partner organizations of the Master Programme.
The organizations hosting the students for the internship are all actively involved in planning and writing European project proposals and in European project management. The internship, therefore, gives the Master students the opportunity to put into practice the skills acquired during the classroom/online part of the programme, through the direct involvement in the planning and management of European projects.
Internships were organised, taking into account profiles, needs and expectations of both each participant and each host organisation to make the internship experience very beneficial for both.
The organisations hosting the Master students interns this year are: Sern, Aeidl, Connex (in Belgium), University of Siena, Smart Revolution and Machiavelli Centre (in Italy), Europe for Business and Aspire-Igen (in UK), Inova+ (in Portugal); Meraki (in Spain); EuroEd (in Romania); Limerick Institute of Technologies (in Ireland); eMundus (in Lithuania), Yazar University (in Turkey).
The duration of the internship is three months.
We wish all the students involved in the 9th edition of the Master Programme to have an excellent professional and personal experience during their internship.