International Conference The Future of Education
International Conference The Future of Education
Call for papers, 11th Edition, Fully Virtual Event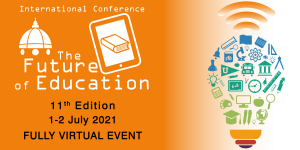 The 11th edition of the Future of Education, International Conference, is organized as a fully virtual event online (on a highly interactive e-Platform) on 1-2 July 2021.

All accepted papers will be included in the Conference Proceedings published by Filodiritto Editore with ISBN, ISSN and DOI codes. The publication will be sent to be reviewed for inclusion in the Conference Proceedings Citation Index by Thomson Reuters (ISI-Clarivate). The publication will also be included in Academia and indexed in Google Scholar.

During the virtual conference:
All accepted papers at the virtual conference will be presented online.
Interactive Questions and Answers sessions will follow each paper presentation.
Poster Presentation Sessions will also be held online.
Networking Opportunities will be organized.

Contact: [email protected]
Official website: http://conference.pixel-online.net/FOE/callforpapers.php
Promo video: https://youtu.be/hTN7_qTOq1U