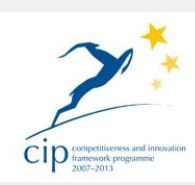 On 15 March 2013 The Call for Proposal ENT-CIP-13-N02C00, Supporting public procurement of innovative solutions, was published in the framework of the Competitiveness and Innovation Framework (CIP) Programme. With small and medium-sized enterprises as its main target, the CIP Programme supports innovation activities (including eco-innovation), provides better access to finance and delivers business support services in the regions. It encourages a better take-up and use of information and communication technologies (ICT) and helps to develop the information society. It also promotes the increased use of renewable energies and energy efficiency.
The general objectives of the CIP Programme are:
- Supporting Entrepreneurship and Innovation (EIP)
- Promoting Policies supporting the development of Information Communication Technologies (ICT-PSP)
- Promoting energy efficiency and encouraging the rational use of energy sources (IEE)
The prioritiy of the current Call for Proposals of the CIP Programme is to encourage public procurement bodies to submit high-quality proposals for collaborative, cross-border projects, on the format of "buyers' groups" of innovative solutions – PPI PILOTS -, that improve the economic framework conditions for innovation and thereby contribute to smart, sustainable and inclusive growth.
Eligible participants within this CIP Programme's call for proposal must be legal entities established in:
EU Member States
EFTA countries that are members of the EEA: Iceland, Liechtenstein, Norway
Other countries participating in the Entrepreneurship and Innovation Programme of the CIP: Croatia, the Former Yugoslav Republic of Macedonia, Turkey, Serbia, Montenegro, Albania and Israel.
The eligible actions that can be funded within this CIP Programme's call for proposal must address the following issues:
Lack of knowledge and expertise in contracting authorities on the use of practices that favour innovation, on risk management in procurement, and on market and technological developments.
Lack of (or wrong) incentives for contracting authorities, which give priority to short term costs and provide no incentives for the additional risks (and initial costs) of purchasing innovative solutions, even if in the long and medium term cost savings and efficiency gains can be obtained.
Mismatch with public policies objectives and strategies, with procurement treated as a purely administrative, legal or financial task and not linked to public policy objectives such as energy and resource efficiency, green economy, etc.
Lack of innovative capability in public organisations, with little or no dedicated resources (financial or personnel) to identify, experiment, develop or evaluate innovations nor even to identify if innovative solutions could better help overcome problems in the public services than standardised solutions.
Fragmentation of demand / lack of critical mass due to the fragmentation of procurement actions across borders and administrative boundaries, which leads to individual procurements being too small for companies to make the effort of coming forward with innovative solutions. This lack of pooling the procurements also entails that the human resources for managing complex procurement processes and the risks involved in being a first customer are not shared.
Difficulties for innovative SMEs to be involved in public procurement as direct beneficiary/ client of a purchasing authority[1]. This hampers the access of public authorities to the innovative potential of SMEs, in particular high-tech SMEs who play a key role in creating innovative solutions.
The total budget available for this CIP Programme's call for proposal amounts to 6.300.000 EUR. The EU contribution will cover a maximum of 95 % of all "eligible costs flanking measures", up to a maximum of 3.150.000 EUR per project.
The deadline for submitting proposals in the framework of the current Call for Proposals in the framework of the CIP Programme is 28 May 2013.
Further information on the current Call for Proposals of the CIP Programme is available at:
http://ec.europa.eu/research/participants/portal/page/call_CIP;efp7_SESSION_ID=jKbyRDJLBYjCSNyQf6HJhpJJ94sqqlnJZ7BqK2kRG1t1jBRh20qF!1563113187?callIdentifier=ENT-CIP-13-N02C00&specificProgram=EIP