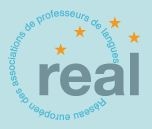 The REAL network is an umbrella organisation whose objective is to represent and bring together associations of language teachers from across Europe.
The REAL network aims to represent the hundreds of language teachers associations in Europe and the countries participating in the EU's Lifelong Learning Programme.
The primary objectives of the REAL network are as follows:
- The defence and the promotion of cultural diversity and of multilingualism.
- Better visibility of language teachers to national and European political agencies
- The development of pedagogic skills through exchanges and joint projects at European level;
- The development of European competence (better knowledge of the recommendations, the tools and the sources of funding available at the European level)
- The development of strategic skills between associations, in particular in order to ensure their sustainability.
The REAL network is a fully independent organisation registered as an international not-for-profit organisation under Belgian law. The association's Executive Board is currently composed of the Network's founding members. REAL member associations will elect a new Board in October/November 2011.
Further information on the REAL network is available on the REAL network
web site