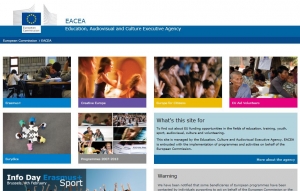 The new web site of the Education Audiovisual and Culture Executive Agency EACEA of the European Commission has been published online.
The purpose of the new EACEA' s web site is to provide information about funding opportunities made available by the European Commission in the fields of education, training, youth, sport, audiovisual, culture and volunteering.
The Education, Culture and Audiovisual Executive Agency EACEA is entrusted with the implementation of programmes and activities on behalf of the European Commission.
The new web site is available at: http://eacea.ec.europa.eu/index_en.php