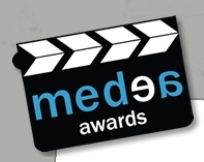 The aim of the MEDEA Awards is to encourage innovation and good practice in the use of media (audio, video, graphics and animation) in education. The awards also recognise and promote excellence in the production and pedagogical design of media-rich learning resources.
This awards scheme has been running since 2008, for descriptions and showcases of more than 60 previous finalists, winners and highly commended entries, visit the MEDEA Awards gallery here: http://www.medea-awards.com/media-gallery/showcases
2012 MEDEA award categories are:
The MEDEA Award for User-Generated Educational Media 2012
This award honours the best entry submitted by teachers, students, learners, parents, professors, individual or organisational representatives in primary education, secondary education, higher education, adult education, vocational education and/or training.
The MEDEA Award for Professionally Produced Educational Media 2012
This award will be awarded to the best professional educational media produced by a professional company or semi-professional production unit such as a broadcaster, professional multimedia producer or publisher, professional web design company, audiovisual or media department in larger institutions or organisations such as universities, government departments, companies, multinational institutions and organisations, etc.
The Special Prize for European Collaboration in the creation of Educational Media 2012
This prize recognises excellent educational media productions and projects that come about as a result of European cross-border collaboration and recognises the impact such collaboration can have in increasing understanding and enhancing the European dimension.
The Special Prize for Educational Media Encouraging Active Ageing and Solidarity between Generations 2012
This prize will be dedicated to an entry or production that clearly uses (multi)media to encourage active ageing and solidarity between generations. All educational media productions, no matter in what format, be it website, video, game or interactive presentation, that illustrate, document or promote the active ageing and solidarity between generations.
The Special MEDEA Jury 2012 Prize
The judges may, at their discretion, present a special award to an approach or production in recognition of exceptional innovation in pedagogic or technical design.
Deadline for entries: 17 September 2012
Entry is for free and entries can be made in English, French, Italian, German, Polish or Spanish
Web site: http://www.medea-awards.com/