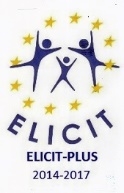 ElicitPlus (http://www.elicitplus.eu) organize 5 short training courses on European citizenship from March to July, you have a choice of, 3 in Romania and 2 in France, all of them eligible to ERASMUS+ KA1 mobility grants.
Education for European Literacy and Committed Citizenship
06 – 12 March 2017 – Cluj-Napoca (Romania) – Languages: Romanian, English & French – 490 €
Organiser: AEDER / ELICIT-PLUS
- Empowering teachers to play a responsible role by promoting knowledge and understanding of the EU governance and functioning of European, national and local institutional systems and raising awareness of citizens' rights and responsibilities
- Fostering the sense of sharing a treasure of history and culture and of having the same goal: building a common future based on confidence and democratic values
Being an articulate and active European Citizen
9-15 April 2017– Limoges (France) – Languages: English, French & Spanish – 490 €
Organisers: AEDE-France, UNILIM and UCO / ELICIT-PLUS
This course, held in the beautiful city of Limoges, will enable you to find your way in the intricate labyrinth of modern medias. How and where to find reliable information about the E.U. and how to articulate the voice of the European Citizen? This course will give you the opportunity to develop your communicative skills and your intercultural understanding. It will also provide time and space for interactive workshops with colleagues from all over Europe. A final session will be enacted as "Theatre FORUM".
European Citizenship Education
7-13 May 2017 – Botosani (Romania) – Languages: Romanian & French – 490 €
Organiser: ISJ-Botosani / ELICIT-PLUS
Join the course in Botosani to better understand the complexity of our European Institutions, the wealth of our European cultural heritage, the opportunities offered for active citizenship and democratic engagement, the possibilities open to participants of all ages in the ERASMUS+ programmes.
European Citizenship and Commitment
22-28 May 2017 – Constanta (Romania) – Languages: Romanian, English & French – 490 €
Organiser: ALUMNI / ELICIT-PLUS
This course will be held in Constanta, on the Black Sea coast, and will develop our awareness of our European cultural heritage: identifying the EU unity through its geography, history, institutions, culture and educational program and understanding our responsibility as European Citizens, to promote our common values and to find our way in the intricacies of the media language.
Citizenship in 21st century Europe. Developing active citizenship
25th June - 1st July 2017 – Strasbourg – Languages: English and French – 490 €
Organizer: GERFEC / ELICIT-PLUS
During this course, our reflection will aim to:
- Develop a better understanding of what is meant by citizenship in the context of Europe today.
- Understand issues of intercultural dialogue in order to promote understanding between people of different cultures, faiths, and convictions.
- Develop tools to support teachers and managers to deliver successful citizenship programmes in their institutions.